C1000 SF
C1000 SF – Understanding standing
---
---
Benefits at a glance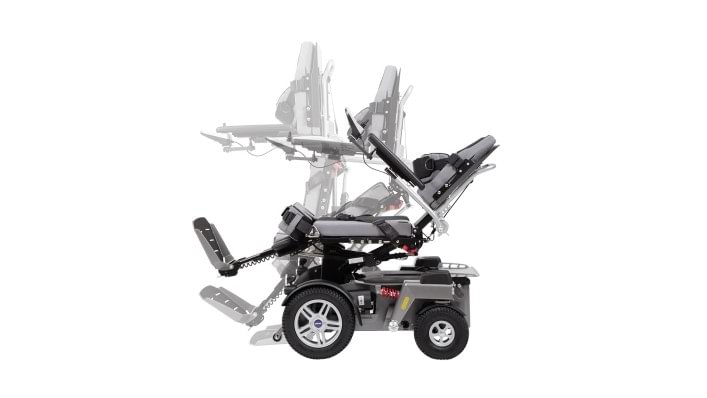 Stand-up function
Movements from almost any sitting or semi-recumbent position into the important extension of the entire body are enabled comfortably and quickly.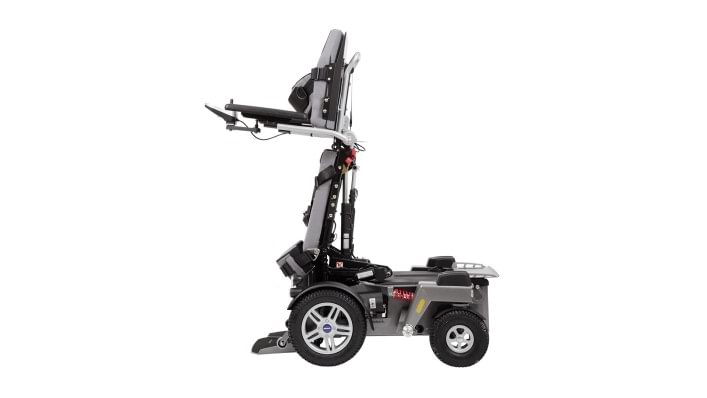 Travelling while standing
The benefits of standing are diverse; in combination with mobility, new prospects are opened up. Uneven terrain can also be travelled on safely without large supporting rollers.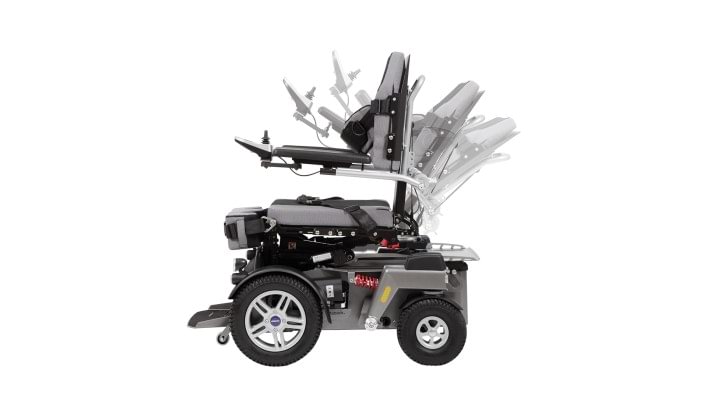 Biomechanical back
The adaptable, biomechanical backrest reduces shear movements while the pads and belts remain where they are supposed to be. Naturally, individual padding and back systems can also be used.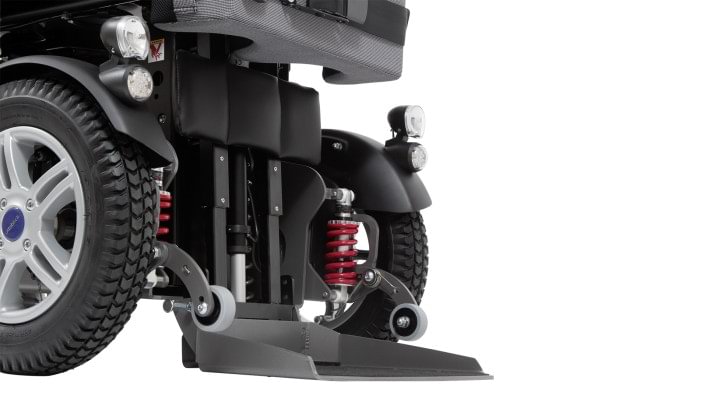 Electric legrest
For a smooth transfer: electrically angle and length-adjustable legrests are a valuable addition and part of the combi-function.
The electrically angle-adjustable legrest supports a comfortable rest position, ensures pressure redistribution and has a positive effect on circulation.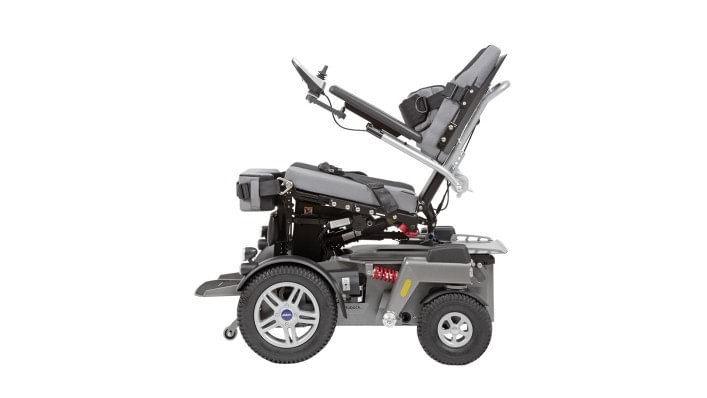 Power seat tilt 15°
Power seat tilt up to 15° with centre of gravity shifting enables a comfortable, physiologically correct sitting position.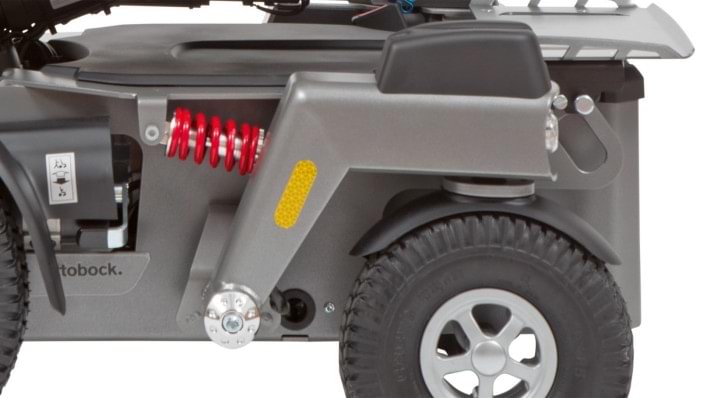 Full suspension
With its weight-dependent full suspension, the C1000 SF offers a comfortable driving experience for everyday outdoor trips.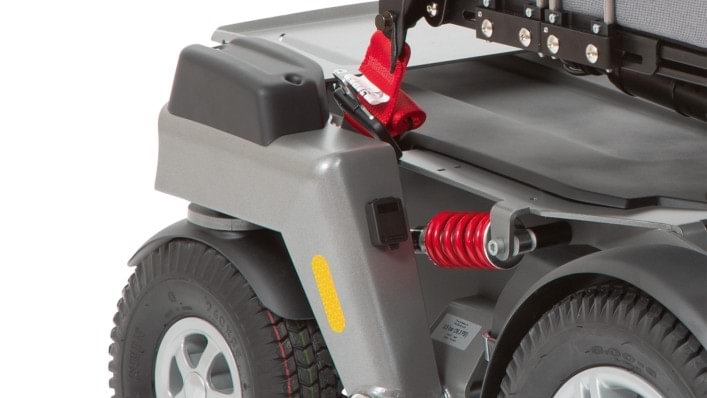 Dual servo steering
The innovative dual servo (DS) steering reacts directly and turns the chair in the smallest space. That makes the C1000 SF highly manoeuvrable and offers a comfortable driving experience, indoors and outdoors.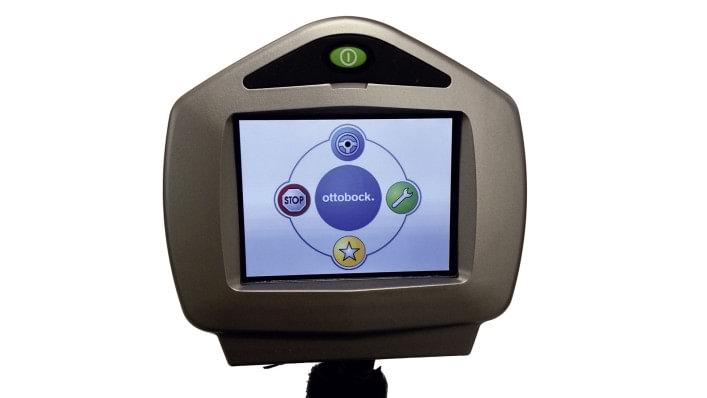 enAble50 control unit – everything under control
Correct positioning when sitting and standing is very important for selecting the input method. If necessary, the C1000 SF can also be extended with alternative inputs. Driving, seat adjustments and environment controls – all with one control system.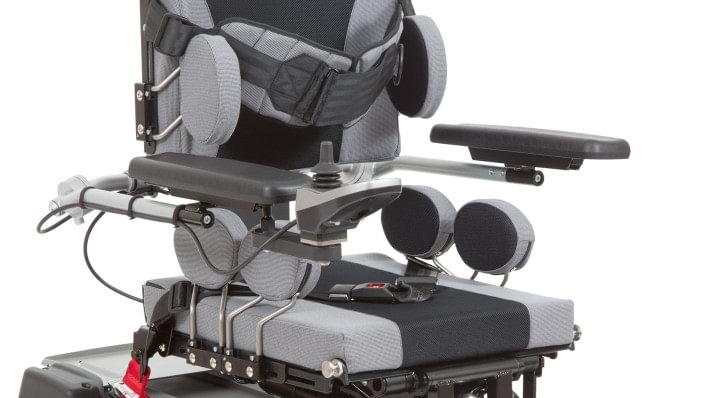 Pads for safety and stability
Our flexible, multi-piece pad systems offer support where needed. Lateral supports in combination with the chest strap prevent sliding out of position and make you feel safer.
Technical information
| Technical data | | | |
| --- | --- | --- | --- |
| Speeds | 6 / 7.2 km/h (136 kg user weight), 10 km/h (100 kg user weight) | Seat height (with cushion) | 530 – 630 mm |
| Battery capacity | 63 Ah (C5) gel batteries | Seat width | 430 – 480 mm |
| Range under test conditions approx. | 35 km | Seat depth | 370 – 530 mm |
| Control unit | enAble50 (130 A) | Back angle | up to 45°, electric |
| Weight when empty | from 214 kg | Seat tilt | up to 15°, electric |
| Max. user weight | 136 kg | Back height | 550 – 650 mm |
| Obstacle negotiation capability | 75 mm | Armrest height | 160 – 260 mm |
| Climbing ability | 10°(18%) | Armrest length | 370 mm |
| Length including footplates | 1200 mm | Lower leg length | 390 – 520 mm |
| Width | 650 mm | Charging time | max. 10 hours |
| Turning radius | 925 mm | Transport ISO 7176-19 | passed |
---
Accessories
---
Similar products