Fitting with a custom leg orthosis
Support in everyday life
The limitation or loss of specific muscle groups after an injury or due to a certain condition or disease has an enormous impact on your life. The key question is how to handle the variety of everyday tasks in the professional, private and social environment. With Ottobock you have a strong partner at your side to help you regain your mobility and live your life in the most independent, self-determined way possible. Your entire rehabilitation team consisting of doctors, orthotists and therapists will support you on your very personal way to enhanced mobility.
An orthosis is a device which supports or replaces missing natural limb function caused e.g. by a stroke, polio, cerebral palsy, incomplete paraplegia or nerve impairment resulting from traumatic accidents. Our custom leg orthoses offers stabilisation, immobilisation, relief and correction exactly where you need it.
Individual fitting solutions
Fitting solutions for AFO (Ankle-Foot Orthosis) users
An AFO (Ankle-Foot Orthosis) supports the ankle joint e.g. in case of a drop foot and can be used to correct the foot positioning. The AFO allows you to walk on level surfaces but also on ramps or uneven terrain for you to regain your independence.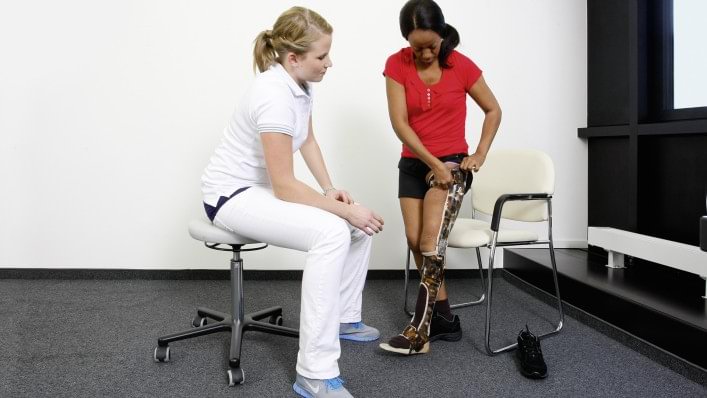 Fitting solutions for KAFO (Knee-Ankle-Foot Orthosis) users
KAFO's (Knee-Ankle-Foot Orthoses) do not only embrace your foot and ankle joint but also your knee joint for further support. There are four different kinds of knee joints.
The first one being locked knee joints for you to receive the maximum support. This system is used when there is not enough muscle activity for you to feel safe when walking. Using a locked knee system such as the E-Mag Control reduces your risk of falling or stumbling and greatly increases your confidence.
For ultimate freedom of movement you can be fitted with a free system provided that you have enough muscle activity to control your knee safely. This kind of orthosis is used mainly to correct the positioning of your leg.
A stance-phase controlled knee joint is locked during the stance phase and unlocks during swing phase. Sufficient residual muscle function is required in order to be able to control such a system. With a custom leg orthosis like E-Mag Active or Free Walk, you enhance your mobility and profit from a more natural gait pattern while relying on a secure stance phase. Neither long standing nor climbing ramps should be serious problems any longer.
Stance and swing phase controlled leg orthoses such as the C-Brace are microprocessor-controlled and adapt to your needs in real-time. The C-Brace enables you to change your walking speed as you like and to walk ramps and stairs naturally for an inconspicuous gait pattern.
Fitting success and additional information
Fitting success
The individual differences between users of custom leg orthoses are too pronounced to follow one approach that suits all. Therefore, your orthotist will advise you after a thorough physical examination on the best solution for your individual case.
We always strive to complement your available muscle strength and support existing muscle function as much as possible for you to receive the highest degree of freedom of movement. At the Ottobock Competence Centre we pursue an integrated approach, offering you personalised support from our entire rehabilitation team. Our technical expertise does not only cover a comprehensive portfolio of products and services, but also includes the individual adaptation of your custom leg orthosis and quality control systems such as the individual motion analysis.
Getting in contact
Our experts will be glad to consult you personally to explain every detail of different treatment options and the corresponding advantages of your future leg orthosis.
We are looking forward to learning about your needs and expectations. Our rehabilitation team will be glad to answer any of your questions.
Treatment process
We invite you to select the categories below to find detailed information about the different phases of your treatment at the Ottobock Competence Centre or to read about the experiences of other custom leg orthosis users.
---