Power wheelchair – Juvo
---
---
Mobility bases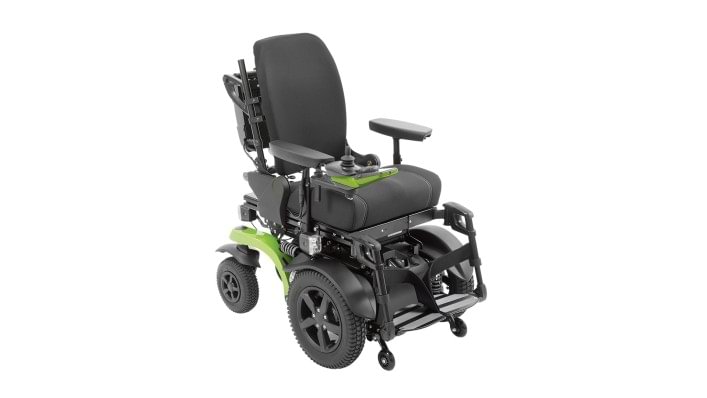 Front-wheel drive (FWD)
The Juvo can easily overcome obstacles such as curbs thanks to its large drive wheels. It also offers you good transfer possibilities and a high degree of manoeuvrability. The wheelchair has a relatively small turning radius with a usual 90° motion and the ability to drive especially close to objects such as furniture or desks.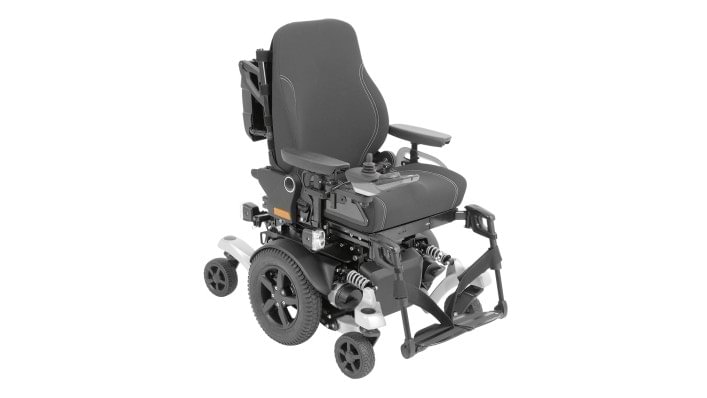 Mid-wheel drive (MWD)
Incomparable driving characteristics for all fields of application. The single-wheel suspension and torsion drive system form the basis for this intuitive drive type. Thanks to the direct pivot point, safe handling is possible even with more complex forms of input.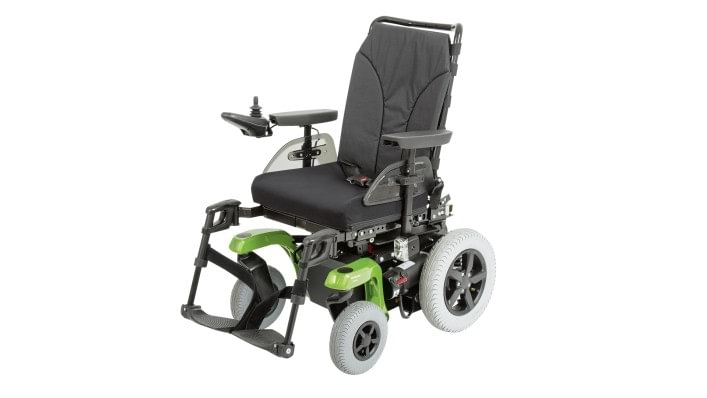 Rear-wheel drive (RWD)
We have continually developed the classic drive system for our Ottobock power wheelchairs: the result is the best traction and enhanced safety, even at higher speeds. Furthermore, the rear-wheel drive offers numerous variations when it comes to speed and features, and the design also permits optimum force distribution on various surfaces. Thanks to its directional stability, the Juvo with rear-wheel drive is ideally suited for outdoor use and is easy for most users to learn.
Control devices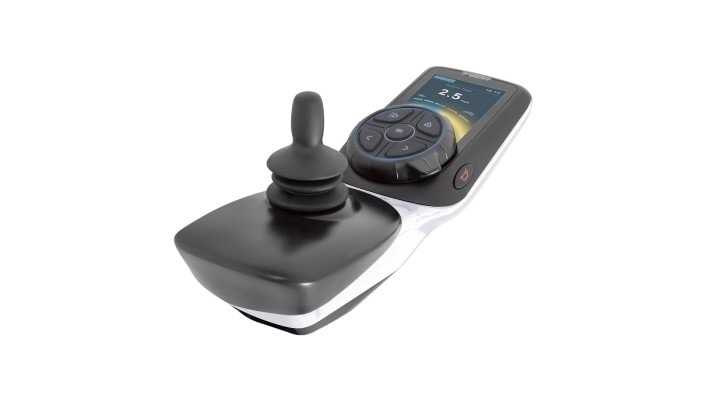 TEN°
The TEN° handheld control device constitutes a small ergonomic revolution for you as a user. Why? One example is the soft hand pad, which prevents premature fatigue. The innovative rotary control with a 10-degree rotation angle makes it easy to access the speed regulation. The high-resolution 3.5 inch colour display gives you a good overview of your user interface.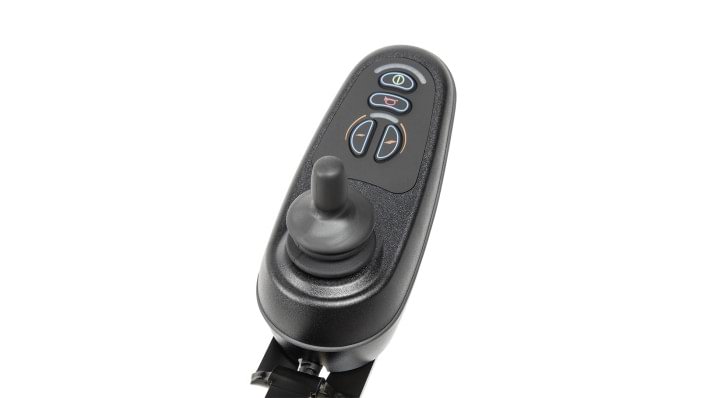 VR2
The tried-and-tested VR2 is our basic control device, which can be programmed to suit your personal needs. The control panel is divided into a keypad, two LED displays and a joystick. A charging receptacle is located on the underside.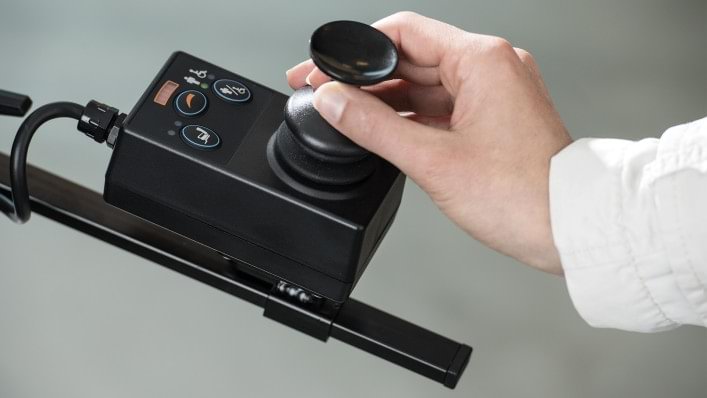 Special controls
Alternative types of input can be used when standard joysticks are not the best option. In many cases, the mini joystick is mounted on an electronic swivel arm for control with the chin or lips. We would be happy to provide you with additional input options for controlling your wheelchair. These can of course be used to control the seat functions as well as your communication devices and your home environment. More
Seating solutions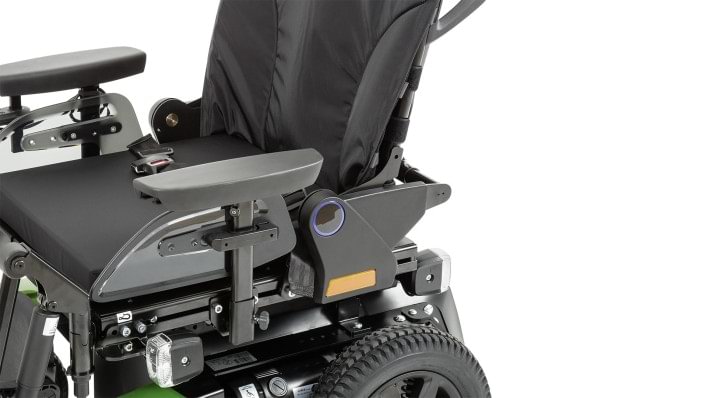 Variably adjustable seat (VAS)
The VAS can be adapted to your measurements, down to the centimetre. It comes with an adjustable padded back support and flat seat cushion as standard equipment. The Ergo-Joint back support angle adjustment is almost entirely free from uncomfortable shear forces. Elevating arm supports and a broad range of leg support versions are optionally available.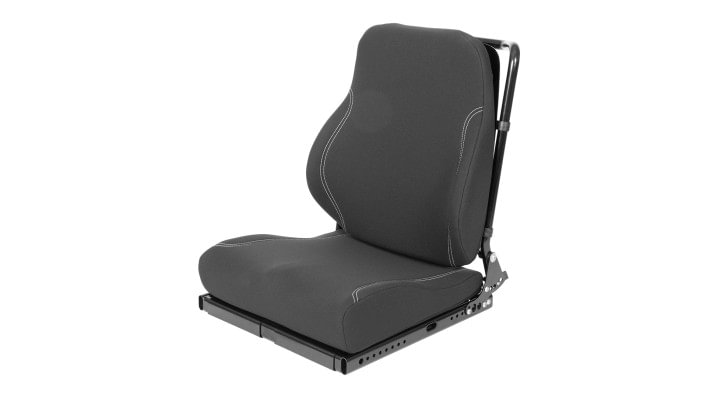 Contour package
Our collaboration with physiotherapists and occupational therapists has resulted in an optimally shaped seat which is available for ordering in a wide range of sizes and contours. The front seat base is formed by the anatomically shaped seat surface, which offers a high level of lateral stability. Moulded to the shape of the thigh, the cushion helps relieve the hip joint. An integrated "ramp" also aids the optimal positioning of the pelvis. Together with the back support pad, it helps to actively straighten the pelvis. Both components of the contour package can be combined with the standard and VAS seating solutions. More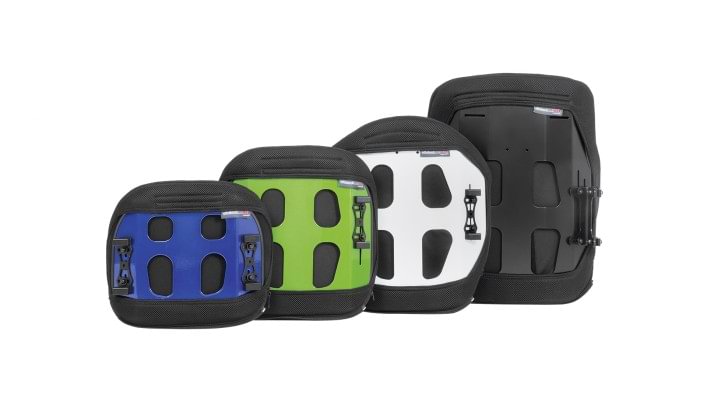 Baxx line
The Baxx line consists of ergonomically shaped, rigid back shells offering you a high level of stability and sitting comfort for everyday use. Two different heights and three contours allow for individual adaptation to your requirements. The top of the back support is padded to make sitting especially comfortable. Large recesses in the back shell make the Baxx lightweight and improve the sitting "climate" thanks to good ventilation. More
Safety and transportation
Anti-tipper rollers
These wheels ensure that the wheelchair does not tip over to the front when driving downhill and braking hard (e.g. when the control device is turned off). The flexible anti-tipper rollers fold back when they come into contact with the respective obstacle so that your front-wheel drive Juvo maintains its climbing ability (e.g. on curbs).
Vibration compensation
The proper positioning of the input module is particularly important if a chin or lip control is used. Effortless driving is possible only if it is aligned precisely. Our joysticks can detect vibrations caused by ground conditions such as cobblestones and adjust the driving speed automatically if desired.
Gyroscope module
This module is a stabilisation programme that offers users effortless driving. The reliable directional stability of your wheelchair not only eliminates inconvenient driving corrections, but also enables precise manoeuvring on various surfaces and slopes. A gyroscope is also recommended when using digital inputs such as switch controls. It is part of the basic equipment of the front-wheel drive Juvo in conjunction with the TEN° control device.
Quick Mobile service
For consistent driving characteristics and a long service life, we recommend annual maintenance of the Juvo by a service specialist. In the unlikely case that the technician is unable to make the Juvo operational again right away, you will not have to do without your usual seat and its customised add-on components during the repair time. The chassis and seat can be easily separated, making it simple to replace the drive unit. The battery of the Juvo B5 / B6 can also be replaced quickly and easily by flipping the seat over.
Transportation in a vehicle
All Juvo drive versions are tested and approved according to ISO 7176-19 for transporting the user in a vehicle while sitting in the wheelchair. Numerous head supports have now also been approved to remain on the wheelchair during transportation. For further information and options, please consult your specialist dealer or our technical field service.
Custom fabrication
The sophisticated modular design of the Juvo helps us reach many users with very specific requirements. However, if there's anything else you need due to your special requirements, please speak to your specialist dealer or the person in charge of your fitting. Our goal is to meet your individual wishes, making your everyday life easier on your journey to greater independence.
Frame colours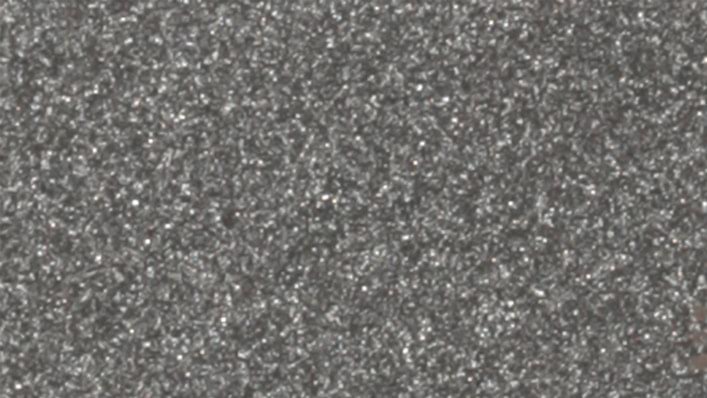 Anthracite metallic Jet black RAL 9005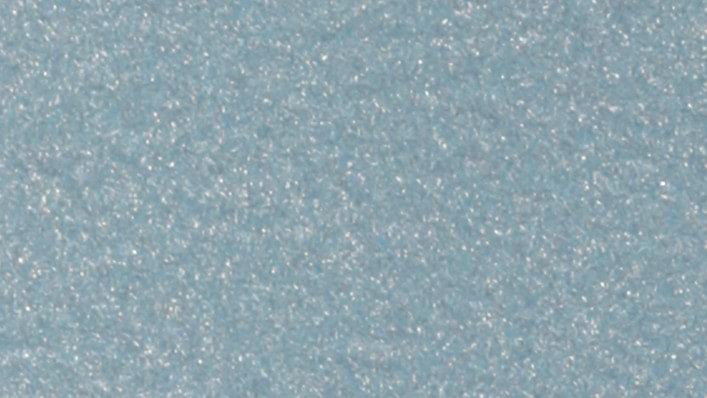 Ice blue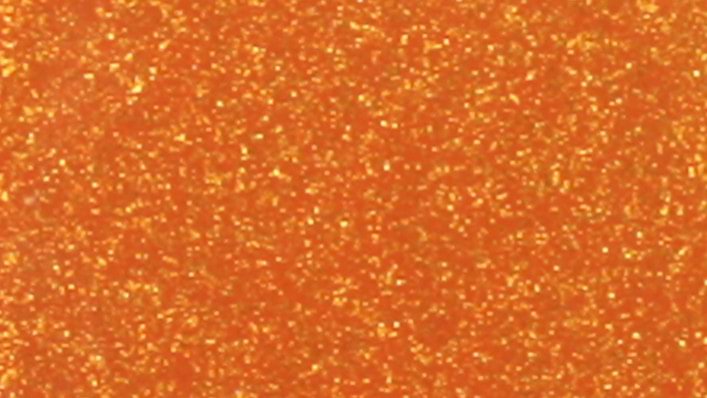 Sparkle light orange Vinho sparkle Marine blue Candy red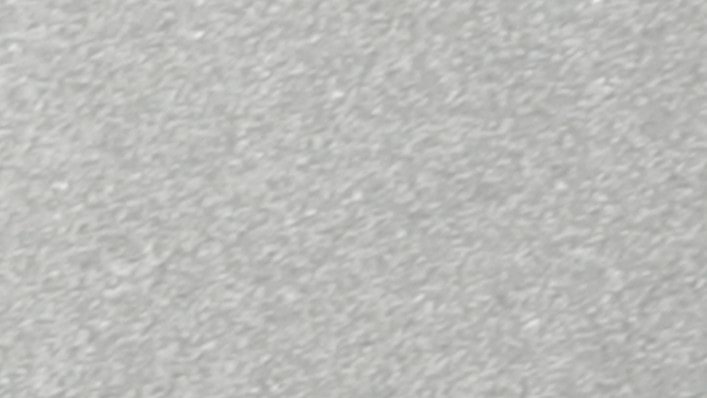 Silver metallic Yellow RAL 1023 Signal red RAL 3001
Sparkle granny-smith Cream RAL 9001 White RAL 9016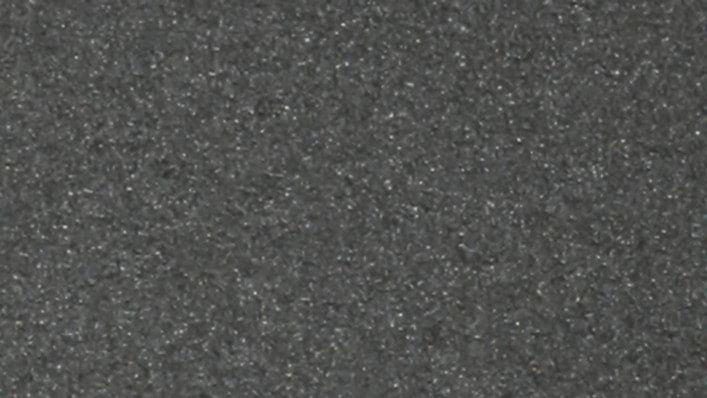 Shimano matte Jet black RAL 9005 matte

Pink RAL 4010
Technical data
Technical data
Speeds
6 / 7.2 / 10 / 14 km/h
Rated battery capacity
53 Ah (C5) to 75 Ah (C5), 62 Ah (C20) to 80 Ah (C20)
Driving distance range (acc. to ISO 7176-4)
25 to 45 km
Control device with lighting according to German Motor Vehicle Safety Standards (StVZO)
VR2 90A or TEN°
Max. load
Chassis size 1: 140 kg
Chassis size 2: 160 kg
Obstacle height the wheelchair is able to overcome
Front-wheel drive: 100 mm
Mid-wheel drive: 65 mm
Rear-wheel drive: 65 mm, optional 100 mm
Climbing ability (according to ISO 7176-2)
10° / 17%
Overall width
Chassis size 1: 600 mm
Chassis size 2: 640 mm
Minimum turning radius (according to ISO 7176-5) from
Front-wheel drive chassis size 1: 714 mm
Front-wheel drive chassis size 2: 777 mm
Mid-wheel drive chassis size 1 and 2: 750 mm
Rear-wheel drive chassis size 1: 847 mm
Rear-wheel drive chassis size 2: 911 mm
Seat height (depending on seating solution)
410–570 mm
Seat width
340–560 mm
Seat depth
340–580 mm
Back support angle
0° to +30°
Seat tilt
45° power
Seat inclination
-3° / 0° / 3° / 6°/ 9°
Back support height
450 / 500 / 550 mm
Arm support height
200–400 mm
Lower leg length
150–540 mm
Max. charging time
12 h
Weight when empty from
120 kg
---
Accessories
Similar products