Rehabilitation after the leg amputation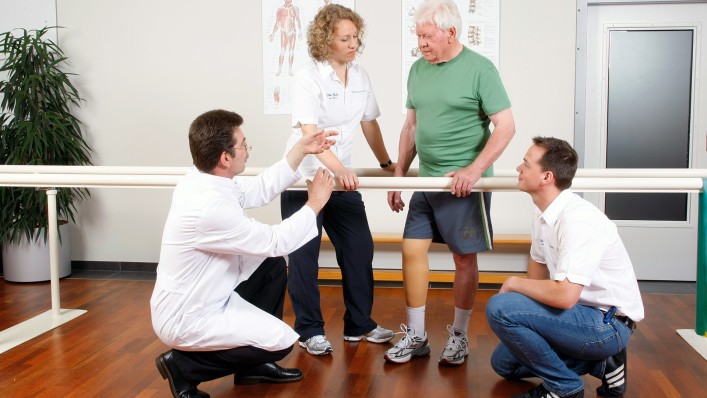 Once the residual limb wound has healed, the rehabilitation phase as such begins a few weeks after the operation. In most cases, inpatient or outpatient rehabilitation will take up to six months. Ideally you have chosen a specialist clinic that has specialised in the rehabilitation of amputees. Learn here (please link to the rehabilitation facilities page in the after the amputation section) how to find the right rehabilitation facility.
During rehabilitation in a clinic, you are cared for by a team of doctors, wound managers, physiotherapists, occupational therapists and sports scientists. The therapy programme is adapted to your state of health and strength reserves. Usually you will have a daily physiotherapy session with gait training, and treatment sessions for occupational therapy, balneo-physiotherapy (baths, massages, electrotherapy, etc.) and sports therapy. Distributed over the day with regular breaks, the treatment will take between 3 and 4 hours, with half-hour therapy sessions as a rule. The goal is for you to return to your accustomed everyday life as quickly as possible. You need to understand that your active participation has a crucial effect on the rehabilitation results. This may also involve questioning and modifying your previous lifestyle. Your attending doctor or a psychologist can support you here as well. You also should not hesitate to request counselling from a psychologist or family counsellor.
Related topics
Rehabilitation after the leg amputation
---
---
---
Related topics