Team sports
Team sports are group experiences. Besides keeping you fit, they also have a strong social dimension. Nobody wins or loses alone. Victory is only gained by working together. Those who train and invest themselves on behalf of a team will enjoy a deep sense of camaraderie and mutual regard. Naturally, team members are expected to be reliable in attending practices and keeping agreements. But commitment can be very helpful for people when they begin a sport, because it helps them integrate the new activity into their routine on an ongoing basis.
There are numerous team sports which people with and without disabilities can play together. It's worth trying various options before you decide which sport and which team is best suited to your needs and wishes. On this page you'll find a selection of different team sports to give you an initial idea of what's out there. If you would like to know more about a particular sport or where you can engage in a sport locally, please contact your national disabled sports association.
---
Wheelchair basketball
Basketball is one of the most popular wheelchair team sports in the world, and numerous sports clubs now cater to this trend. Wheelchair basketball is a spectacular sport: fast, acrobatic, passionate and inclusive. Many teams include non-disabled members who join their fellow players in wheelchairs to chase the ball.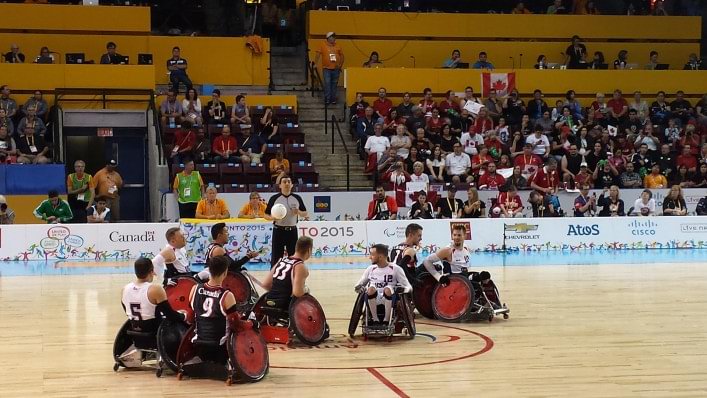 Wheelchair rugby
Wheelchair rugby is an exciting, action-packed sport for individuals with restricted use of at least three limbs. Most players are people with paraplegia, other form of paralysis, amputations or spasticities. Wheelchair rugby is a popular wheelchair sport in many countries around the world, and many sports clubs now include it in their programme.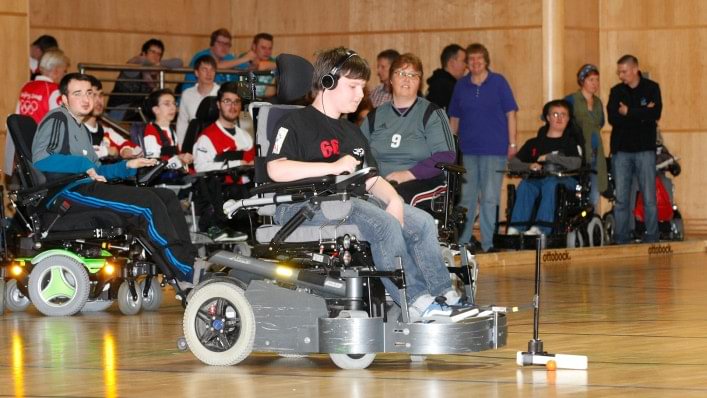 Power wheelchair sports
Various sports are also open to those who use power wheelchairs. The most popular team sports for power wheelchair users include E-ball, powerchair football and powerchair hockey. The attraction of power wheelchair sports lies in the high level of skill required to steer and drive the wheelchair, the fascinating ways in which the ball is controlled via a bat or wheelchair, and the high level of tactical finesse during play.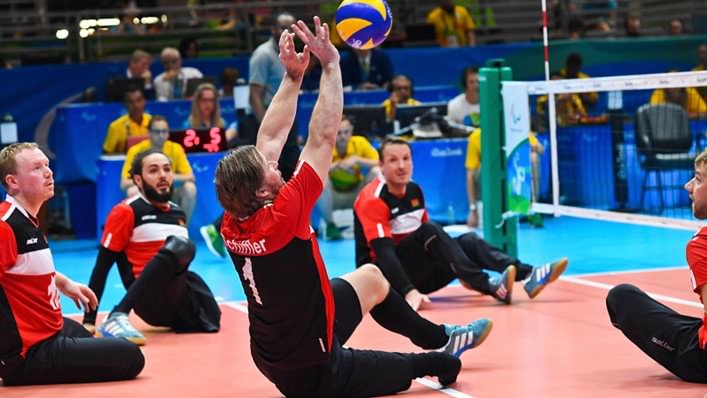 Sitting volleyball
Sitting volleyball is a dynamic game in which two teams of six play at a 1.15-metre-high net. Technique is identical to that of conventional volleyball – the only difference being that the player's pelvis must be touching the ground when they make contact with the ball. Sitting volleyball is ideal for athletes with leg disabilities, as players are seated throughout the game. Players may use their arms and legs to move around, but no other devices are permitted.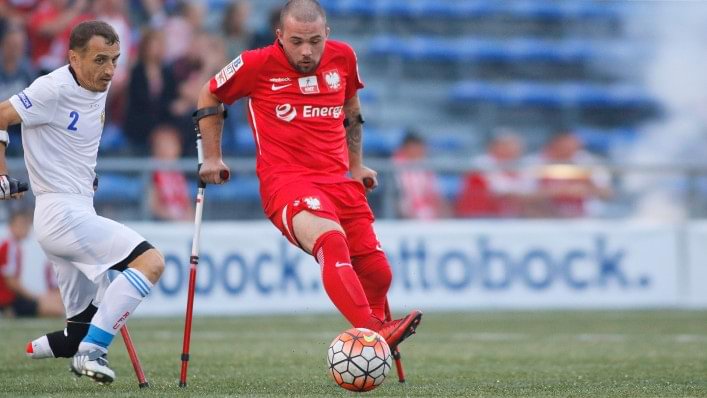 Football
There are many different versions of football which cater to people with different types of disabilities. Blind football is a five-a-side game for the blind and visually impaired; CP football is a seven-a-side game for ambulant players with cerebral movement disorders. For people with amputations or dysmelia, amputee football has established itself on a global scale. Players on the field use one leg and a metal crutch; the goalkeeper plays with both legs but only one arm. The result is a fast-paced, exciting and fascinating game which enthralls players and spectators alike. Conventional football rules apply for this version of disabled football, but with minor adjustments.
---
---
---
Athletic and active in everyday life
---